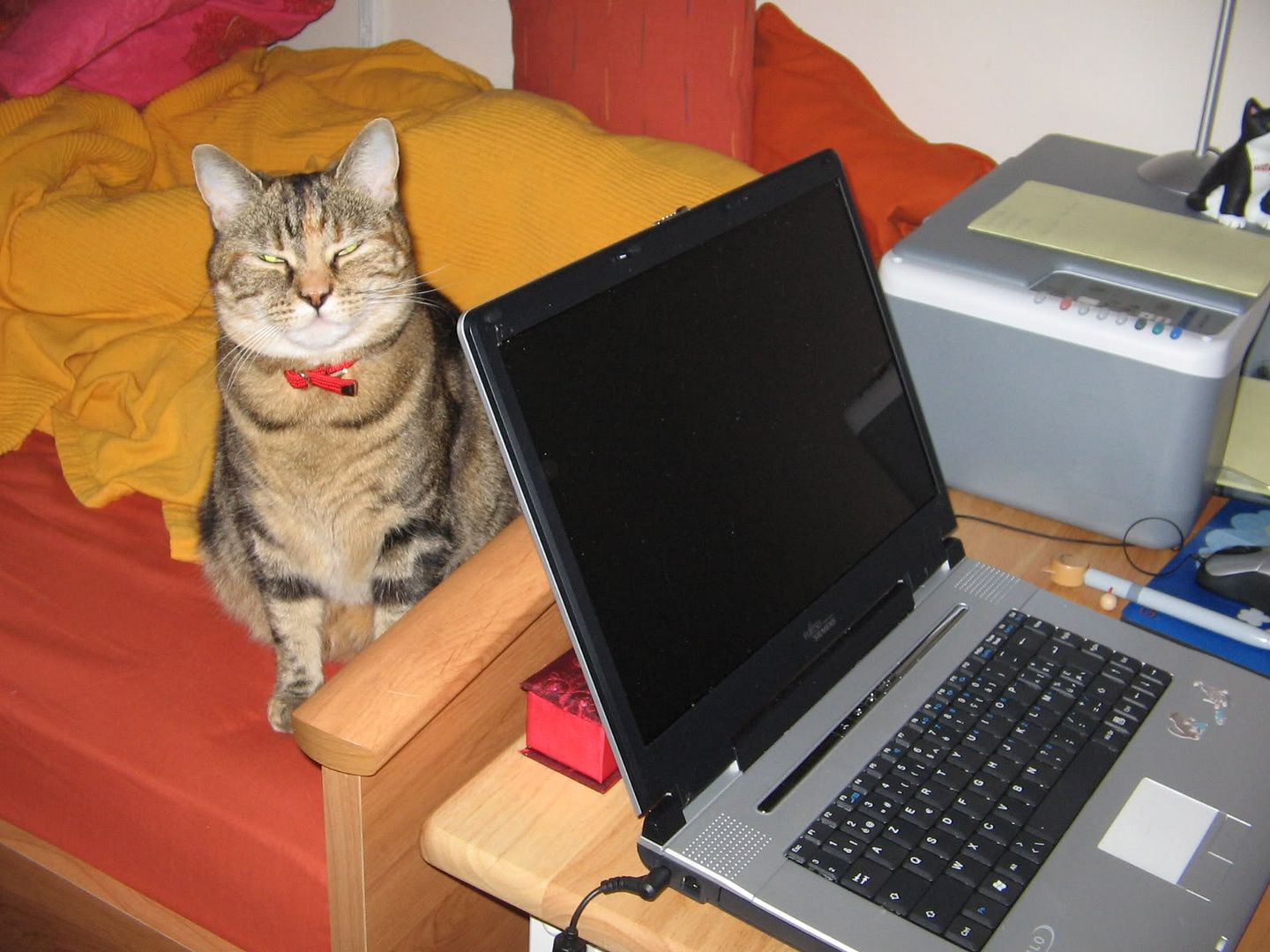 This belongs to the past ! Not Pookie of course !
1. I woke up at 1 am because something or somebody made strange noices. Half asleep I thought about something falling down and a little noice like spraying water.
2. When I switched on the light, I saw my cat Lisa with her bottom turned to the computer and her tail up.
Would you ever believe that from a cute innocent (!!) cat ?
3. I screemed and jumped out of my bed.
4. I stumbled over my slippers and sweared like a truck driver. Were astonished afterwards about the knowledge I had. (how was that possible ?)
5. To get my balance back, I hit a little table which felt down and a flower vase and some ceramic cats dropped to the floor.
6. I ran to my computer, Lisa saw me coming and escaped like a flash.
7. I discovered the catastrophe, although my laptop was closed, everything inside and around was wet.
8. I took a kitchen paper roll and did my best to dry everything . I put the laptop near the radiator and run after Lisa who of course had disappeared.
9. In the morning I tried to switch on my computer. Dead. Nothing not even a little light. I took out the battery everything was wet inside. I took my hairdryer and put it on for 1/2 h then tried again. Still nothing.
10. Mr. Gattino proposed to ask his computershop for help and took the thing with him. He didn't say anything to Lisa. Of course as usual I were guilty, I should have put a plastic cover over the laptop. Easy to say afterwards !
11. I had to go on his computer to prepare and publish Wordless Wednesday. That wasn't easy at all and took a lot of time
12. When he came back, he told me there is nothing to do, I have to buy a new one !
13. I told myself to calm down and it's better to get a new computer than a stomach ulcer.
The result of this awful day : One new laptop, one swearing (in Italian, that sounds better) Mr. Gattino installing the computer, one happy cat purring around and having a very good appetite.
At last the whole story didn't stink.
Now, I have to wait until saturday then I will get my documents and pictures back, this at least can be recuperated.