19.9.06
THE PLANT
PC Pookie sat straight on the stool besides my desk her tail neatly folded around the paws and starred at the wall (painted, no wall paper) purring. I ask her why are you purring, but she didn't answer just made me understand to mind my own business and leave her alone. She was meditating, at least it looked like that. So I decided to write about mothers who have to deal with a son still in puberty at 20. Maybe some mothers will be shocked about my education methods, but the result was very good.
One day (not once upon a time) my son came home from boarding school and brought me a tiny little plant, which he asked me to take care of during easter holidays, as he was going to England. It surprised me a bit, his sudden love for plants, I had never noticed that before, but people change. So I promised to water the plant very often and put it always in the sun inside of course. Soon the little thing started to grow and grow and I had to put it in a bigger pot. Strange behaviour of my cats too, they loved this plant jumped on the sink to sniff at it and then almost falling in love. I sniffed too, but besides a sweet strange smell I noticed nothing. And the plant grew. By now it had already a size of 50 cm (19 inch) big leaves and some bulbs. But no flowers. So finally I put it in the garden as it began to take a lot of space. Everybody who came visiting us, asked me what kind of plant that were but I really didn't know. They all noticed the strong sweet smell and I told them it doesn't belong to me but to my son. When he came back he found his plant nice and big and asked me to keep it for a while as he had no space for that in his room at boarding school. That was OK to me, the plant was in the garden and everything was fine. In October I had to take it in, it started getting cold and I put it in our bedroom but there it smelled so strong that I put it in the guestroom. Now it had reached at least 1.20 (4ft) and the cats loved it more and more. One day my collegue and friend visited me she was belgian and from morroccan origin and exclaimed "Wow ! I would never have thought of you that you have a Hashish plant here !" My eyes almost fell out and I told her that I didn't know what plant it was. She became a laugh attack, she laughed that much that I thought she would collapse and then still laughing she said "that's something having a canabis plant growing by the own mother" First I really were stoned but then I had to laugh too, that was really something and typical for my son. Now I thought what should I do ? I asked my husband, keep it he said, it's a nice plant and the cats love it. OK this of course was an argument, so the plant stayed where it was and the house smelled well and all visitors were pleased. Then one day 2 young policemen (as usual two, one for reading one for writing) rang at the door and asked for my son. Of course all claws out to defend my little one just like a tiger mother. They told me, that somebody had told them that my son would smoke hashish. Of course I told them that he was an angel and he would never never never do such a thing ! And while we were talking the plant distributed it's flavour all over the house. Then they asked me if they could see his room I told them yes of course (especially because the room in question was far away from the smelling plant) I opened every drawer and the wardrobe doors and was cooperating more then much so that they lost all interest and started to admire the photos on the wall (my son studied photographing) which indeed were very nice. So satisfied they both strolled away, happy to have resolved the case of a canabis addict. I felt in the next armchair and laughed then I called my best friend and my husband to tell them the story. Everybody found that very funny. When son came back over the week- end I told him why didn't you tell me what it was ? Boff, he said, I thought you wouldn't understand. Which probably would have been true. Later on he harvested his plant and told me that the quality was very good. Of course ! With all that care I gave to it ! Now I have to add that I was about that age in the 60 and canabis was as normal as tobacco. It had never interested me, but it was normal that a lot of people old or young smoked it. It was not forbidden and nobody cared (just like the cigarettes, which had become a danger for the whole world). When you watch old movies, even the police is smoking with the feed on their desks. So I thought it would be better not to dramatize and see him already dying in a toilet from an overdose, and said nothing. As he has a strong opposition mind (when you are for something he is not) he didn't see any changement in my behavior, so it just wasn't interesting any more to him. And today he and his friends (now around 30) tell me that I were absolutely right. That (!) does me good.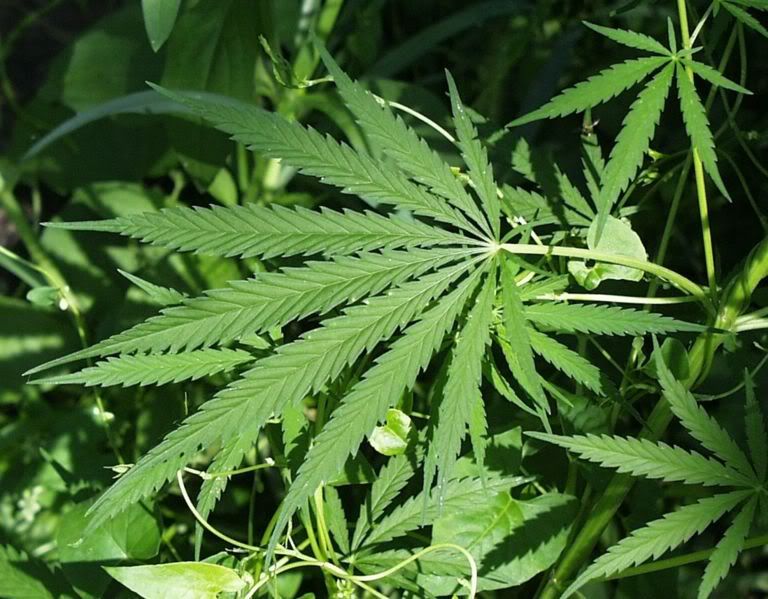 Pookie jumped out as I hit the exclamation mark and gave me an angry look, because she meanwhile dreamt from other grasses probably.
Posted by

Gattina
at 3:49 AM